It seems to me that the politicians, pundits and people in general are largely overlooking the most important implications of the recent attack on Saudi oil processing facilities. I can't judge the credibility of recent U.S. and Saudi claims that the attack was launched from Iranian territory, but I will accept that Occam's razor supports the conclusion that the perpetrator was some faction allied with Iran, with or without the endorsement of Ayatollah Kahmenei. Let's leave that aside for the moment.
Here's the geography: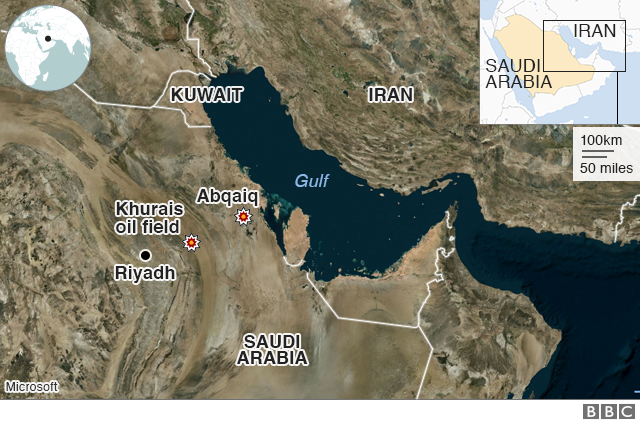 Notice that if the attack was launched from Iranian territory, the devices flew over the Gulf (called the Arabian or Persian Gulf depending on which side of it you are on) over U.S. naval vessels equipped with the
Aegis combat system
, which is designed to detect and neutralize airborne threats. Saudi Arabia, for its part, has spent untold tens of billions of dollars on high-technology air defense systems from the United States, including radar systems, Patriot missiles, and more stuff some of which is probably classified and not even known to the public. In fact on paper the Saudi military is the most powerful in the region. Presumably Saudi air defenses are configured primarily to defend against an attack coming from Iran.
The claim is specifically that it was possible to knock out more than half of Saudi oil production capacity using cheap gadgets that the Iranians made themselves; and that it took more than four days for the Saudis and Americans to figure out where they came from. (The U.S. uses Tomahawk missiles that cost more than $1 million apiece for this sort of attack, and they can be shot down by the kind of systems possessed by the U.S. and Saudi Arabia.) Presumably Iran has plenty more of these drones or cruise missiles (I'm not actually sure what the distinction is supposed to be), and note that it's only another 50 miles from Khurais to Riyadh.
If the Aegis Combat System and Saudi air defenses are really that worthless, it's going to give other people ideas, and maybe give the people who did this additional ideas of their own. It also represents an extraordinary admission on the part of the U.S., which sells these systems to nations all over the world. I'm not going to dwell on the implications of all this, you can figure it out for yourselves.