As long-time readers know, I'm fortunate enough to own some land in rural Connecticut. It's essentially a peninsula into state forest. There are a few houses around along the roads, cornfields and dairy farms within shouting distance, the Shettucket River, and woods. That's about it. No subdivisions, no downtown except for a general store and a post office. I mow about 2 1/2 acres, three times a year or so, otherwise my place is embedded in deep oak and hemlock forest, with an old pine plantation running within 200 feet of the road.

There's a lot of wildlife around, but the one category that is by far the most obvious, impressive and extensive is the phylum arthropoda. When you walk through the field, the grasshoppers fly up ahead of you in a great cloud -- I mean dozens or who knows, hundreds of different kinds, all different sizes and color schemes. Sometimes Mark (the carpenter I'm working with to build the house) and I leave the door open to the sun porch to bring in material or cool it down, and three or four butterflies will come right in. Yesterday we were removing some vegetation in order to do some outside work and Mark was stung by a saddleback caterpillar -- a very weird critter which neither of us had ever seen before: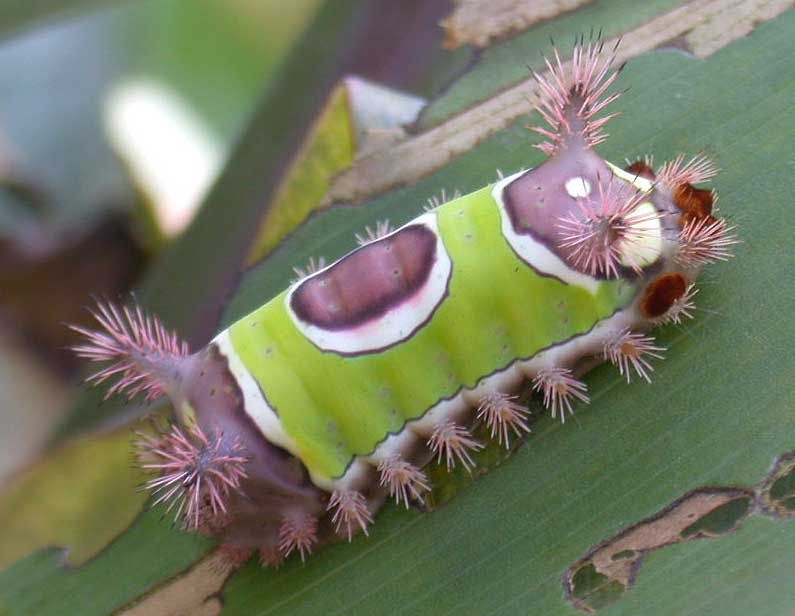 If you see one of these, don't touch it!

At night, the fields are so full of fireflies you can just about see your way by them. Where the soil is sandy, there's hardly any space between the anthills. Walk through the brush, and the spiderwebs are all over your face. They're back in minutes. I'm knocking down wasp nests from the eves and door frames of the house and barn every week. The trees are filled with continuous trilling, there are mantids sitting on the rocks and along the borders of the grassy areas, ladybugs form great masses of boiling orange --

I could go on but you get the idea. I'm very lucky by the way -- the white-tailed hornets are a real problem but there are almost no mosquitoes or biting flies around. I don't really know why -- there's a vernal pool on my property and plenty of wetland associated with the Shettucket and its tributaries, but for some reason we're spared.

The city and the suburbs, and even most farmland and other rural areas I know, are nothing like this. Oh yes, there are plenty of insects and a lot more than you realize if you know how to look for them. But this place is really noticeably different. The bugs are everywhere, in clouds and congregations, stirring and flitting and jumping and crawling, turning the air and soil into constant motion, making the planet vibrate and thrill with life.

For one thing, I expect the complete absence of any pesticides has a lot to do with it -- the farm closest to me is organic, and while I don't expect the cornfields are managed completely organically, I haven't seen any pesticide application and I expect the farmer is at least using IPM. Anyway, corn doesn't need a lot of chemical assistance. The homeowners aren't into perfect artificial lawns, all they do is mow.

My own garden has never had a problem from insects. Deer, I would happily poison, but I have not had insect damage. I'm sure I will soon enough if I keep at it, but the fact is, in the middle of an insect metropolis, I can live with them quite happily. Well, the hornets are an annoyance, but they actually aren't very difficult to deal with by mechanical extirpation. Just use a long stick, and do it at night.

The insects have their own home page, well worth checking out.